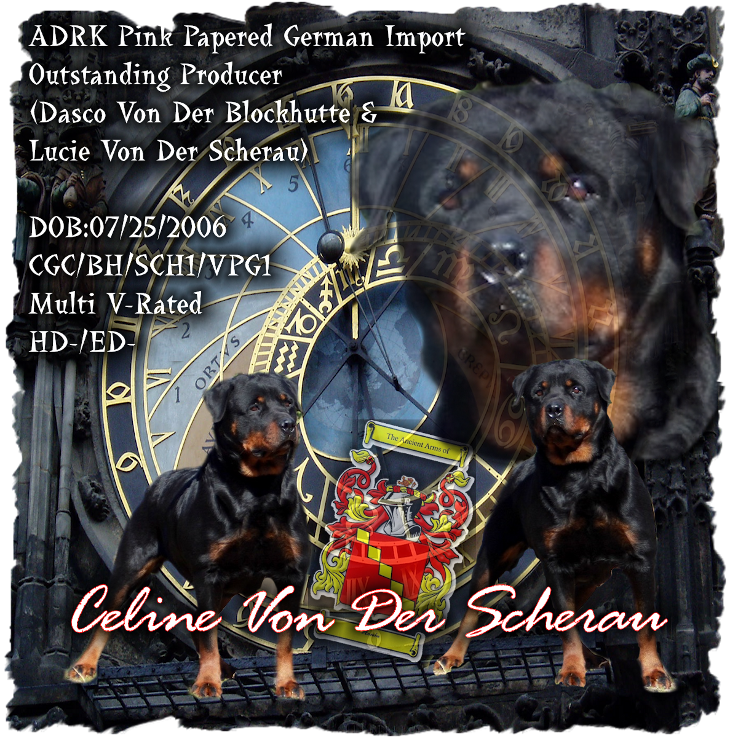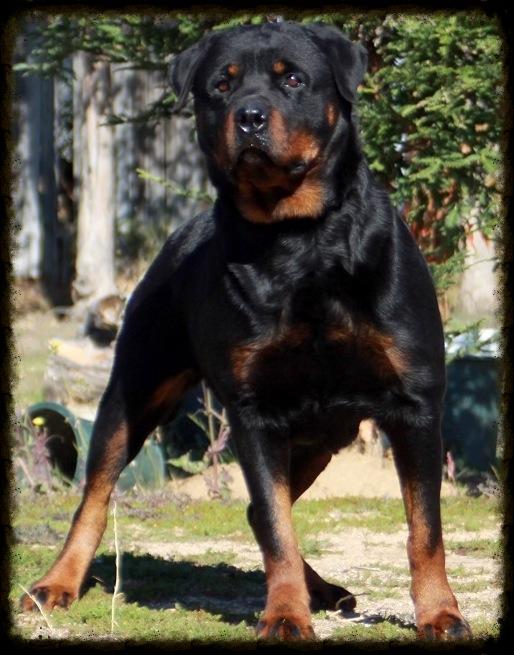 Judge Josef Hover (ADRK) October 26th, 2008
Open Class Female
27 months, small to medium sized. Good in substance and bone strength. Natural angulation. Well knuckled paws. Good chest proportions. Good head, could be fuller in the rear. Ears somewhat high set; well carried. Sufficiently dark eyes. Stop could be more pronounced. Sufficiently strong muzzle. Cheekbones could be better pronounced. Scissor bite. Dark lips and gums. Coat is correct. Markings correct size and excellent color. Good movement. Enough rear drive.
Judge Anton Spindler March 15th, 2008
18-24 Months Female
Scissors bite. Dark mouth pigmentation. Good in size and substance. Alert. Dark eyes. Good skull. Correct ears. Naturally angulated in front. A little long in back. Natural angulated rear end. Good muscled in rear end. Short coat. Brown markings. Free movement.
Judge Jim Marrone June 3rd, 2007
9-12 months Female
10 Month old female. Well developed over and under lines. Straight front and rear. Good angulation front and rear. Pasterns both front and rear still need to firm up. Typical bitch head. Middle brown eyes. Strong neck and fore-chest. Excellent coat and color. Tail carried straight down. Movement good but could use a little more drive in the rear.
Judge Andreas Mueller December 9th, 2006
4-6 months Female
4 months old. Good bone and substance. Friendly. Female head. Ears of correct size, well set and carried. Dark brown eyes. Needs to develop more cheek bone. Matching muzzle. Well proportioned chest. Straight front. Feet slightly flat. Good top line. Well positioned croup, correct length. Tail well set, carried hanging. Very good movement. Strong coarse coat. Dark brown markings. Scissors bite, teething.